The cities of Cuyahoga Falls and Akron have officially come together to launch a joint planning project to steer future developments in the Merriman Valley and Schumacher areas. 
Farr Associates, an architectural and planning firm have been hired to complete this project. 
This proposed master plan will build upon the 2005 Northampton Area planning framework in order to create a more cohesive land use policy and regulations that will guide future development for both Cuyahoga Falls and Akron in the Merriman Valley-Schumacher Area.
Merriman Valley - Schumacher Area Master Plan Final Report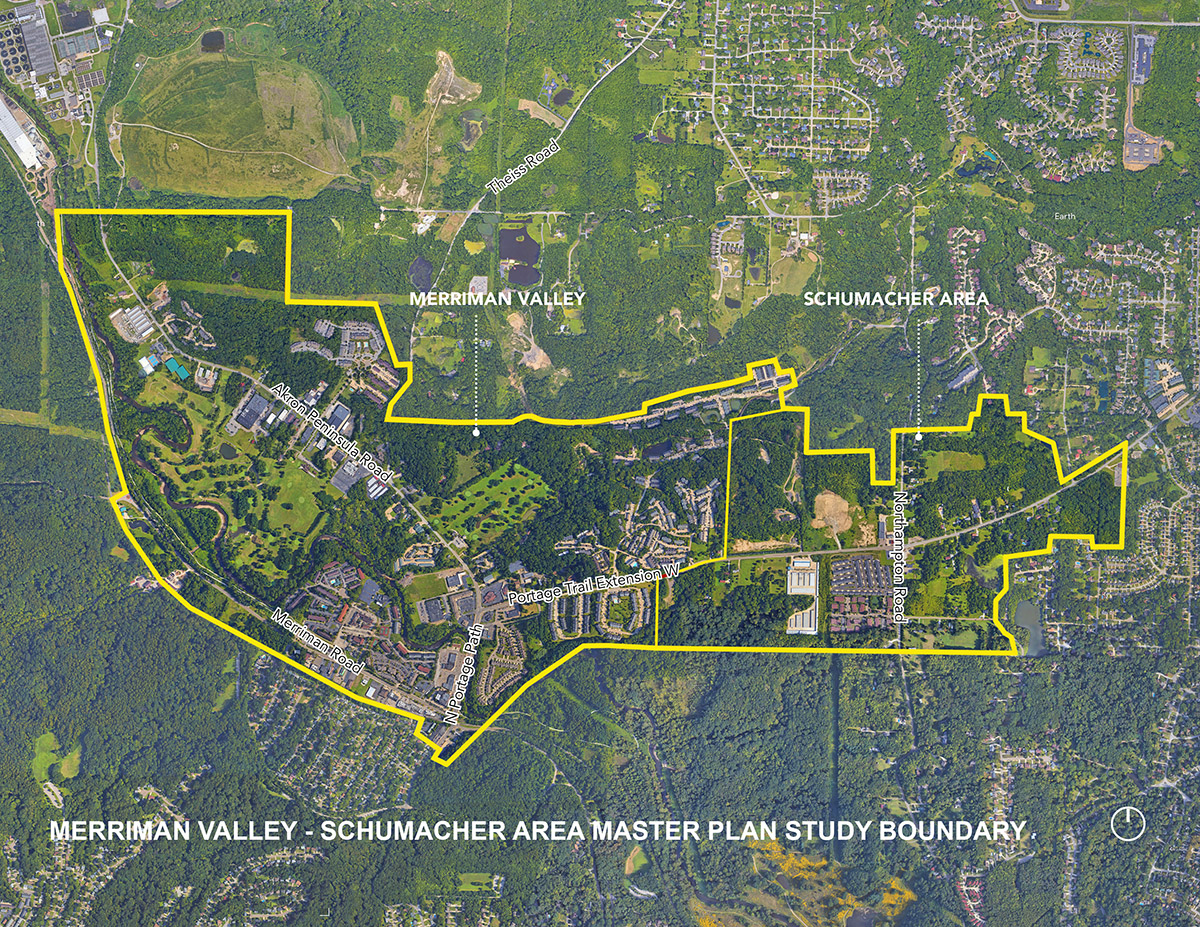 Press Releases
March 5, 2021 January 13, 2022
Master Plan Draft Report
---
Public Participation
Akron Mayor Dan Horrigan and Cuyahoga Falls Mayor Don Walters invite the public to attend a virtual meeting to discuss the draft Merriman Valley - Schumacher Area Master Plan on Wednesday, December 15 from 6:00 pm to 7:30 pm.  With this Master Plan, the two cities hope to ensure that the Merriman Valley and Schumacher neighborhoods will become more walkable, healthy, equitable, beautiful, and resilient places to live, work, and play.
At the December 15 meeting, Farr Associates will present the highlights and recommendations of the Master Plan, including:
Proposed Land Uses – including changes to the existing Zoning Code
Improved Transportation Systems - streets, trails, sidewalks, and river access
Environmental Considerations - conservation neighborhoods, habitat corridors, and riparian setbacks
Example Development and Redevelopment Scenarios – within the study area in both Akron and Cuyahoga Falls
At the public meeting, following a brief presentation of the draft plan by the consultant, participants will be able to ask questions of the consultant team and city officials via the Zoom chat feature. This dialogue will be moderated by Dan Rice, President of the Ohio & Erie Canalway Coalition and Chair of the Cuyahoga Falls Planning Commission. 
full press release Meeting recording presentation slides
---
Meaningful public participation is a key component of a successful planning process. Therefore, the Cities and Farr Associates are inviting the public to participate in the study through the following workshops: 
Public Workshop 1 – Project Introduction & Building Blocks 
Thursday, July 15th at 5.30 pm 
Virtual Event
This workshop will have two parts:
In the first part of the meeting, Farr Associates will introduce the project, planning team, and initial goals.  Significant findings from the planning team's site visit and preliminary investigations will be presented.  Farr Associates will also discuss with attendees their perceptions of the strengths and weaknesses of the study area, along with their aspirations for its future.  
In the second part of the discussion, Farr Associates will engage the public in an exercise called Asset Based Community Development.  Farr Associates will lead attendees through a series of questions on an array of urban design elements, including building and housing types, streetscapes, and green spaces.  Feedback from this exercise will lead to a consensus on the key elements, or "building blocks", that the Farr Associates will then use as a basis for creating two master plan scenarios for the study area.  
Public Workshop 2 – Scenario Evaluation 
Tuesday, Aug 17th at 5.30 pm 
Live Event at Todaro's (1820 Akron Peninsula Road)  
Public Workshop 3 – Preferred Plan 
Thursday, Aug 19th at 5.30 pm 
Live Event at Todaro's (1820 Akron Peninsula Road) 
---
If you have any questions pertaining to this master plan process, please feel free to contact Community Development Director, Diana Colavecchio via email at colavecchio@cityofcf.com or via telephone at 330-971-8135.