Emergency Management is the concept of developing an emergency response plan that will allow a quick recovery from a major disaster in the City of Cuyahoga Falls regardless of the cause.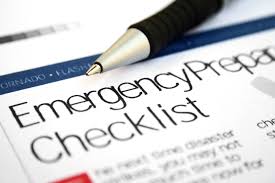 The Emergency Management System is founded in the Federal Defense Act of 1950, which created our nation's Civil Defense System.
The City of Cuyahoga Falls prepares for disaster every year, building its foundation to face challenges presented by natural and man-made disasters. Disasters necessitate a sudden escalation for response and resources in a community. Organization of resources and personnel is needed to counteract the confusion that can occur in a disaster. Planning and preparedness for a local disaster requires the community to coordinate its resources to provide an integrated emergency response system.
The Cuyahoga Falls Emergency Operations Plan is a policy statement concerning the response to a community disaster. It assigns tasks and responsibilities to various city departments. It specifies their roles during an emergency or disaster situation. The Plan is mindful of Summit County and Ohio's emergency operations, ensuring a smooth transition should a disaster-level emergency escalate beyond our boundaries or capabilities.
The Cuyahoga Falls Emergency Management Committee is dedicated to preparing the city for any type of disaster. We are informing the public and our employees of the varied methods we will use to prevent or recover from a disaster.
If you need information or have any questions, contact CFFD at (330) 971-8400.
---
Emergency Information Via Text & Email
Sign-up to receive emergency information through the city's CF Online Alert system. You may opt to have texts and/or emails sent to you with the latest on boil alerts, street closings, emergency disasters, and other imperative safety updates.
---
Emergency Planning Resources
Learn more about emergency planning through our allied organizations Ready America, the American Red Cross and the Federal Emergency Management Agency; all working to make our world safer through planning and cooperation.