The special operations divisions within the police force perform some of the essential tasks of communicating and filing cases in addition to implementing specific field work utilizing dogs and unique tools to get the job done.
Dispatch

The Cuyahoga Falls Regional Communication Center exists to provide the citizens of Cuyahoga Falls as well as the Village of Silver Lake, and the City of Munroe Falls, an effective means by which to summon both emergency and non-emergency public safety assistance and to provide our public safety personnel with constant, reliable communications and support. The Center is a 24/7/365 operation that dispatches police, fire, EMS in response to 911 calls for service, averaging 120,000 calls per year. Dispatch may be reached in times of emergency at 9-1-1 or in non-emergency situations at (330) 928-2181.
---
K-9 Unit

K-9 units are composed of law enforcement officers partnered with a highly-trained canines. These specially trained dogs are extremely intelligent and have a strong sense of smell. They help to pursue fugitives, search for missing persons, or search for narcotics or weapons.
---
Records Bureau

The records bureau is an integral part of the police department that handles all record requests from the public and agencies averaging about 30,000 reports per year. They make sure that court subpoenas are distributed to the officers and that they have the evidence needed for court.
The bureau is also responsible for processing approximately 5,000 pieces of property including, but not limited to, evidence, found property, contraband, and seized/forfeited items, and then conducts associated property auctions.
---
School Resource Officer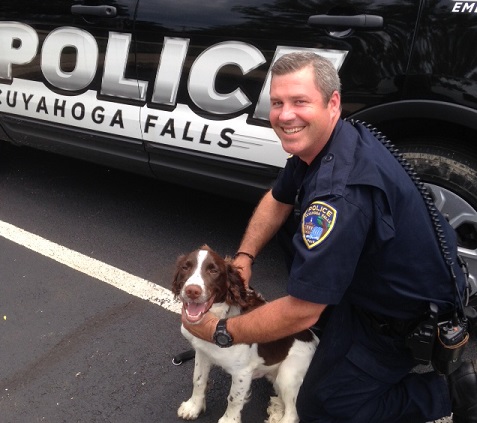 Cuyahoga Falls has approximately 19 schools in its jurisdiction in which the school resource officers, or SRO's, spend most days in school buildings, maintaining relationships with students and faculty, and act as a liaison between all parties. They also assist in educating students and faculty in current safety topics and trends. The SRO's conduct many programs at our schools including "Not Me I'm Drug Free," which teaches fifth grade students about the dangers of drugs.
---

The police department employs 21 crossing guards who assist at 16 different crossing posts located throughout the city around our schools. The guards help ensure the children's safety in these areas as they arrive and leave from school. Those interested in applying for this position may visit city job postings.
---
S.W.A.T.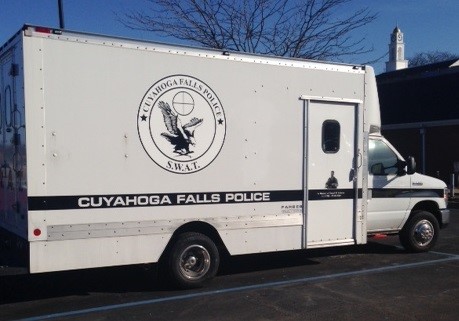 The Cuyahoga Falls Special Weapons and Tactics, or S.W.A.T. team, is comprised of officers, tactical paramedics, and negotiators that are on call 24 hours a day, seven days a week. Fortunately, because of the infrequency of call-outs, all members are assigned to regular duties to include patrol, detectives, firefighters, and paramedics.
S.W.A.T. members are trained to perform operations that fall outside of the abilities of regular officers including high-risk arrest/search warrants, barricaded suspects, hostage rescue, or any other incident which would require a specialized approach.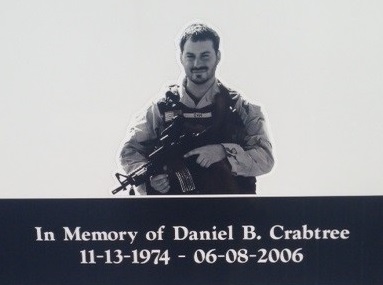 Areas of training include marksmanship, less lethal options, chemical munitions, breaching and ballistic shield tactics. Training also includes working with the use of other specialized equipment such as search cameras and hostage phones. 
The S.W.A.T. vehicle is dedicated to honoring Officer Daniel Crabtree, a member of the Cuyahoga Falls S.W.A.T. team who was killed while serving his country in Iraq.
---
Training

It is important to the safety of the community and our local law enforcement that continual training occurs. This helps to keep our personnel's skills fresh and up-to-date with the day's technology advancements. Every year the police department refreshes skills like firearms and outside school logistics. The use of OPOTA-mandated Continuing Professional Education ensures that all officers maintain required certifications and proficiency levels in all specialized law enforcement topics through a field training program.