Rental facilities are available across the city that provide immediate access to the parks with all the comforts of home.
Consider renting one of these shelters or lodges for your next event!
Keyser Park Shelter
Click here for more on the rental process and policies.
---
Seven shelters across three parks provide coverage from the elements and plenty of seating for your guests.
Located at 851 West Bath Road, on the top of the hill off of Northampton Road, the Keyser Park Shelter includes playground equipment, a walking trail, and lighted tennis & basketball courts. No electricity or water is available. Seats 32 persons at picnic tables.
---
Situated at 2250 Twelfth Street, Oak Park Shelter includes restrooms, playground equipment, a basketball court, outdoor cornhole game (bring your own bags), wading pool, and a small ball field. There is a large grill, but no access to electricity and water is located nearby at the restroom.  Seats 48 persons at picnic tables.
---
Five (5) shelters are nestled in the rear of Water Works Park located at 2025 Munroe Falls Avenue. All shelters have electrical outlets and a charcoal grill with access to a central restroom with running water.
Big Cuyahoga: Seats 70 persons at picnic tables.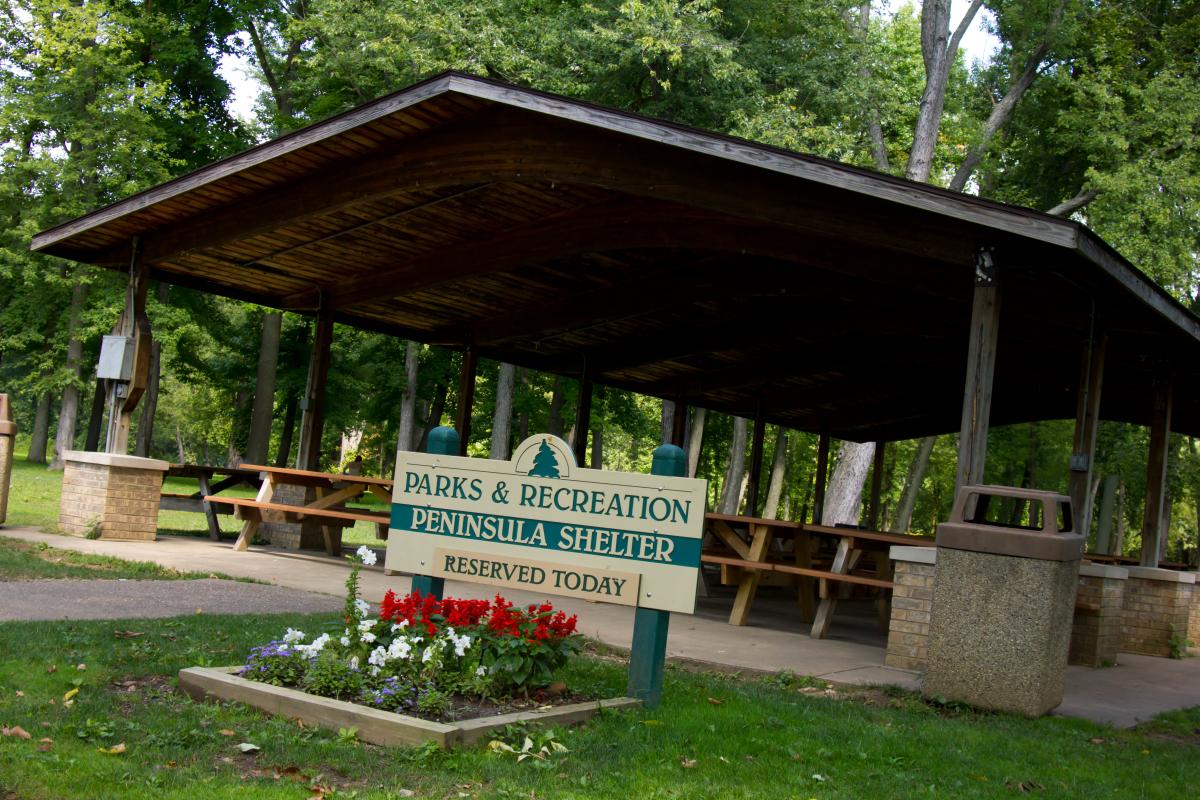 Kelsey Creek: Seats 80 persons at picnic tables.
Little Stone: Seats 60 persons at picnic tables.
Peninsula: Seats 120 persons at picnic tables.
Shady Bend: Seats 90 persons at picnic tables.
Click here for a map to Water Works Park and its shelter locations.
Rental Fees
The rental fees is the same rate for all shelters, any day of the week. All reservations are from sunrise to sunset.
Resident Rate: $60
Non-resident Rate: $75
---
To check the availability of a shelter, please call the Parks and Recreation office at (330) 971-8225, or click the link below.
Payment is due at time of reservation by cash, check, or card.  Visa, MasterCard, and Discover are accepted. 
Policies
The Parks and Recreation Department put these policies in place for the safety of participants. Please call the department at (330) 971-8225 for clarification on any of these inclusions. For a full list of policies, please click here.
Reservations
Reservations must be made 1 week in advance and may be made up to 1 year in advance.
Refunds
Reservations canceled six months or more prior to the reservation date receive a 90% refund; less than six months notice receives a 50% refund.
Alcoholic Beverages
No person will bring into, keep, carry, serve, or drink any beverage containing alcohol inside or outside the premises.