"Not Me, I'm Drug Free," is an anti-drug campaign that unites the Mayor's office, Cuyahoga Falls and Woodridge school districts, police and fire departments, community businesses, and Western Reserve Hospital in an unprecedented effort to curb drug abuse in Cuyahoga Falls.
The campaign is designed to educate Cuyahoga Falls elementary school students about the dangers of using drugs and alcohol, including meth and heroin, by connecting with them through social media and in-person conversations, through a fun incentive program that spurs discussion and encourages peers to help each other make good decisions when faced with potential use of drugs.
Students who abstain from drugs can take advantage of the 'Free'-wards incentive card, which offers valuable perks on food and family activities in and around Cuyahoga Falls. Perks include a free set of ear buds at Western Reserve Hospital, free admission to Water Works Family Aquatic Center, free food and desserts at many area restaurants and much more. T-shirts, posters and yard signs are also available to show your community support for this important program.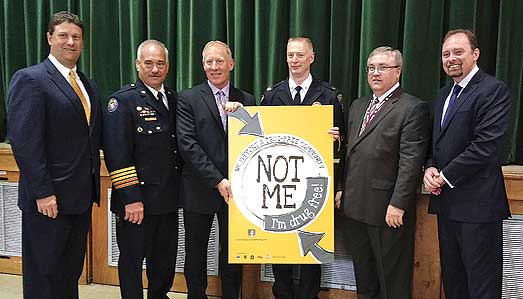 The initiative was launched on May 28, 2014 at an event held at DeWitt Elementary School, where Mayor Walters, Western Reserve Hospital President Dr. Robert Kent, Police Chief Jack Davis, Fire Chief Paul Moledor, Cuyahoga Falls City Schools Superintendent Dr. Todd Nichols and Woodridge Schools Superintendent Walter Davis all spoke to the students, parents and community.
---
Take the Pledge
Contact city hall or your local school district to take the pledge today!
Like the "Not Me, I'm Drug Free" community page on Facebook to learn about the latest Not Me news.
---
Help is Available
If you or someone you love are in need of help with addiction, contact the crisis hotline at (330) 434-9144. More information is available through the Summit County Alcohol, Drug Addiction and Mental Health Services Board.
---
The More You Know
Heroin
Heroin is one of the most addictive and destructive drugs in the world. It's made even more dangerous because it's injected directly into the body with a syringe, which drastically increases the risk of getting AIDS, HIV or other deadly diseases.
Short-term effects
Abscesses / soft-tissue infections
Nausea and vomiting
Spontaneous abortion in pregnant users
Slowed cardiac functions
Slowed breathing (sometimes to the point of death)
Long-term Effects
Bacterial infections of the blood vessels and heart valves
Brain damage
Hepatitis, AIDS and other blood-borne virus diseases
Liver or kidney disease
Lung complications
Scarred and/or collapsed veins
Methamphetamine
Like heroin, methamphetamine is extremely addictive. "Meth" is also one of the most devastating drugs to your appearance. In only a few short years, meth can devastate your teeth, gums and skin and potentially can even kill you.
Short-term Effects
Disturbed sleep
Hyperactivity
Nausea
Delusions of power
Increased irritability
Decreased hunger
Insomnia
Confusion
Hallucinations
Anxiety and paranoia
Convulsions
Long-term Effects
Increased heart rate and blood pressure
Damage to blood vessels in the brain
Liver, kidney and lung damage
Brain damage / memory impairment
Extreme mood swings
*This vital health information was made possible by Western Reserve Hospital.